Zippy Lewis Lounge
Legendary for more than their innovative cocktails, Zippys is a favorite gathering spot for looking out over the ocean and hearing Ocean City stories. Bearing the namesake of a charming widowed beachcomber who made her living selling buried sand treasures, Zippy Lewis Lounge is one-of-a-kind.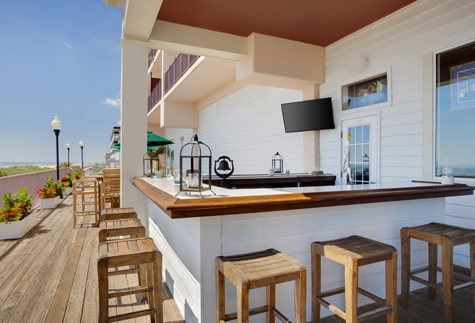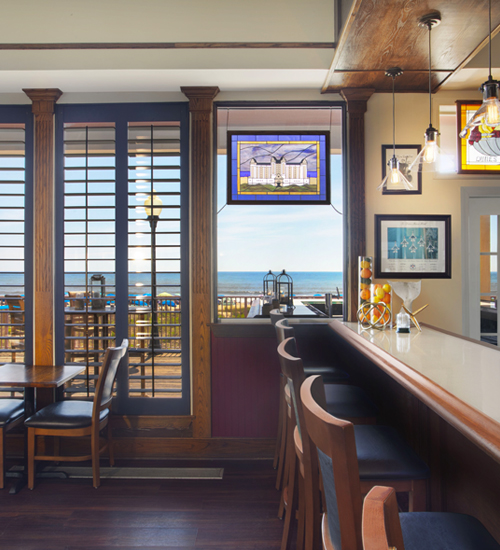 Hours of Operation
Open Daily
Mon - Thurs from 4 p.m. to 9 p.m.
Fri - Sun from 11 a.m. to 9 p.m.
All Day Menu
GLUTEN-FREE

Consuming raw or undercooked meats, poultry, seafood, shellfish or eggs may increase your risk of foodborne illness, especially if you have certain medical conditions.
QUICK BITES
Thick-cut bacon, Parmigiano-Reggiano, Pickled Onion, and Honey Balsamic Glaze
Avocado, Wakame, Ponzu Sauce, Wasabi Aioli, and Toasted Sesame Seeds
Nig Oyster Brewing Company Beer Broth, Andouille, Fennel, Pernod, and Grilled Baguette
Spinach, Applewood Smoked Bacon, Pernod
Cream Sauce, and Parmigiano-Reggiano
Roasted Local Corn Salsa, Micro Cilantro, and Remoulade
Pickled Onions, English Cucumbers, Banana Peppers, Feta, Kalamata Olives, Carrots, Celery, and Grilled Baguette
Pickled Onions, Radish, Cilantro, with Tortilla Chips
White Cheddar, Rainbow Carrot, and Grilled Baguette
Chef's Selection of Cured Meat and Aged Cheeses, Cornichons, Kalamata Olives, Fig Jam, Beer Mustard, and Artisan Crackers
SOUPS & SALADS
Romaine, Parmigiano-Reggiano, Caesar Aioli, Anchovy, and Grilled Sourdough
Baby Field Greens, English Cucumber, Grape Tomatoes, Red Onion, and Lemon Herb Vinaigrette
Local Corn, and Sherry Cream
Baby Kale, Fifer Orchards Red Apple, Pistachio, Pickled Shallot, Goat Cheese, and Aged Balsamic Vinaigrette
Dunes Signature Crab Cakes | MP
Wild Caught Salmon
Grilled Chicken
Filet Mignon
SANDWICHES
All sandwiches served with fries and a dill pickle
8oz Angus Beef, Cheddar, Applewood Smoked Bacon, Caramelized Onion, Beer Mustard served on Brioche
Dunes Signature Crab Cake Sandwich
Broiled, Romaine, Heirloom Tomato, Red Onion served on Brioche
Blackened Wild Caught Salmon BLT
Applewood Smoked Bacon, Romaine, Heirloom Tomato, Cajun Remoulade served on Ciabatta
Pickled Slaw, Chipotle Sour Cream served on Corn Tortilla
Crispy Prosciutto, Havarti, Romaine, Dill Pickle, Beer Mustard served on Ciabatta
Romaine, Heirloom Tomato, Cajun Remoulade served on French Loaf
Caramelized Onion, Provolone served on French Loaf
ENTRÉE
Dunes Signature Crab Cakes
Smashed Yukon Gold Potatoes, Haricot Verts, Roasted Local Corn Salsa, and Citrus Beurre Blanc
Truffled Lobster Mac and Cheese
Cavatappi, Truffle Mornay Sauce, Roasted Wild Mushrooms, Herbed Breadcrumbs, and Micro Arugula
Wild Mushroom Risotto, Herb Roasted Broccolini, and Pan Jus
Charred Wild Caught Salmon
Brussel Sprouts, Fifer Orchards Apple Salsa with a Balsamic Reduction
Garlic Mashed Potatoes, and Grilled Asparagus Tips
Grilled Broccolini, Cauliflower Puree | Lobster Sauce
Pan-Roasted Bone-in Pork Chop
Fingerling Potatoes |Asparagus Tips | Apple Pear Chutney | Pan Jus
Smashed Yukon Gold Potatoes, Haricot Verts, and Herb Compound Butter
Happy Hour
DRINKS
ZIPPY LEWIS LOUNGE AT DUNES MANOR
Bacon | Cheese | Scallions
Cured Meat | Aged Cheeses | Olives
Lettuce | Tomato | Onion | French Fries
Pickled Slaw | Spicy Mayo
Cocktail List
Refreshing Libations
Bud Light, Budweiser, Coors, Light, Miller Lite, Corona, Heineken, Blue Moon, Dogfish 60 IPA
Cabernet Sauvignon, Merlot, Pinot Noir, Chardonnay, Pinot Grigio, Sauvignon Blanc, Rose, Moscato
Bubbly cocktail with Vodka & Orange Liquor
Dark & Coconut rum with tropical juices
Frosty blend of strawberry & citrus slush
Gold Tequila, salt dipped over ice
creamy rum cocktail with pineapple juice